IBM Information On Demand (IOD) 2011
Premier IBM Partner ObjectBuilders Showcases Assembled IBM Solutions
ObjectBuilders has been featured at every IBM IOD show since the show's inception. At the 2011 IBM IOD show in Las Vegas ObjectBuilders once again introduced new IBM solution offerings to IBM, its clients and partners, including HiREV (Health Information Record Exchange and Validation), Correspondence Management (Assembled on the Unified Case Management Platform) and ProcessEx.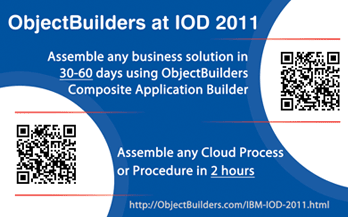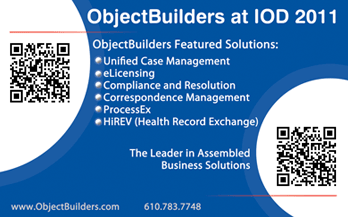 In addition to assembling IBM business solutions, ObjectBuilders also offers a wide range of products, services and support that add significant value to any investment an organization has made, or is considering making into the IBM family of software products.
ObjectBuilders expert IBM (FileNet) consultants, architects, project managers, analysts and developers have led or supported multiple major IBM initiatives in Global 2000 organizations, as well as many of the largest and most secure government institutions over the past 12 years.
ObjectBuilders at IBM IOD 2011 in Las Vegas